The greatest gift one can get is a book. Books are more than just a way of passing time. They offer knowledge and understanding, and more importantly, they offer perspective. Whether it is an autobiography or a fictional book, it is always a story. The best age to introduce a book to a person should be when s/he is a toddler
A book can change a person's opinion or perspective on a certain topic. It can entertain and it helps people escape from reality for a while. Books are not passive – they involve the reader.
The introduction of books to children is important because it provides them with knowledge and literacy skills. It also helps them develop imagination, creativity, and even empathy. Books are very important because they teach you many things you need to know in life. They also help your child to fall asleep at night. 
Reading to children is an activity that brings happiness, joy, and love. It develops a close bond between the child and the parent. Parents who read stories to their children are more likely to have their children become successful. Reading helps develop language skills, imagination skills, and curiosity skills in young children.
But how to introduce books to Children? Here are some things to keep in mind when reading a book to children.
Read aloud, every day , any story – Connect with your children on a whole new level by reading aloud to them.
Let children touch and feel the book- Children's senses at this age are strongest- the only medium they connect so well. By letting them get hands-on experience by touching, feeling, seeing, and singing about the story, it will make them connected and interested.
Show children the Book- children at small ages attract things on the basis of their vision. A colorful book will help in developing interest in the child
Introduce pictures-  Ask the child what they see in the picture. What color is the cat? What other animals are in this picture? How do they feel seeing these pictures? Pictures are considered one of the fastest mediums to understand things.
Sing to them about scenes – Singing is also one of the tools which generate interest in children.  Children love music, and singing  to them will make them interested
Introduce words–  Point to the words as you read them. Running your and their fingers through words. Spelling it out loud will increase the child's vocabulary. Introduce words. Point to the words as you read them.
"The Cat sat on the mat."
"The Cat"
"sat"
"mat"
Make the story come alive- To attract the attention of the child, you need to infuse different voices and sounds in your storytelling. The sound accompanying images can be anything from a lion's roar to where you get scared. Experiment with certain tones & voice modulation depending on what activity is taking place to make your kids more interested in their books.
Make it personal– Use personal day-to-day life instances as a reference, it will make your child understand the story in a fun and easy way. .Connecting with your child through personal examples is a great way to make lessons more interesting.
Make it a part of your life – Make it a habit to read books for your children, a habit, every day. Books are the building blocks of a child's intuitive mind and character.
Choose diverse stories – Choose diverse books and stories to help grow their creativity and appreciation of other people's lives.
Ask for your children's liking – It will help them develop their own likings, their choices, interests and their individual viewpoints that will lead to the development of a strong character.
Let the children turn the pages – Making children take part in these small activities like turning the pages of the book will make them feel involved and more present.
It is OK to interrupt –  It is completely okay if your children interrupt you in between, or asks for a break. Children tend to get distracted easily and that is very common at that age. So instead of reading continuously and not stopping. Pause and Begin again. 
Engage the kid by asking about the story– To get the kids engaged, ask them questions about the story- it's great for their imagination & critical thinking skills. Teaching them morals this way will be easier. Interactive stories are also a lot of fun to create!
We know it can be difficult trying to find the right books for your child, but we The Happy Mom's Cafe have put together our recommendations that should give you lots of inspiration and books to start with!
Busy Friends (Busy Books) Board book
Author: https://www.instagram.com/sm_illustration/
All set to Read- Level 1- Assisted reading with small sentences and pictures- READERS- 6 books in a Red Box
Author: https://www.instagram.com/ombookshop/
My First Complete Learning Library: Boxset of 20 Board Books Gift Set for Kids (Horizontal Design)
Author: https://www.instagram.com/wonderhousebooks/
Babyhug First Step to Big Learning Reading Maestro Books Set of 10 – English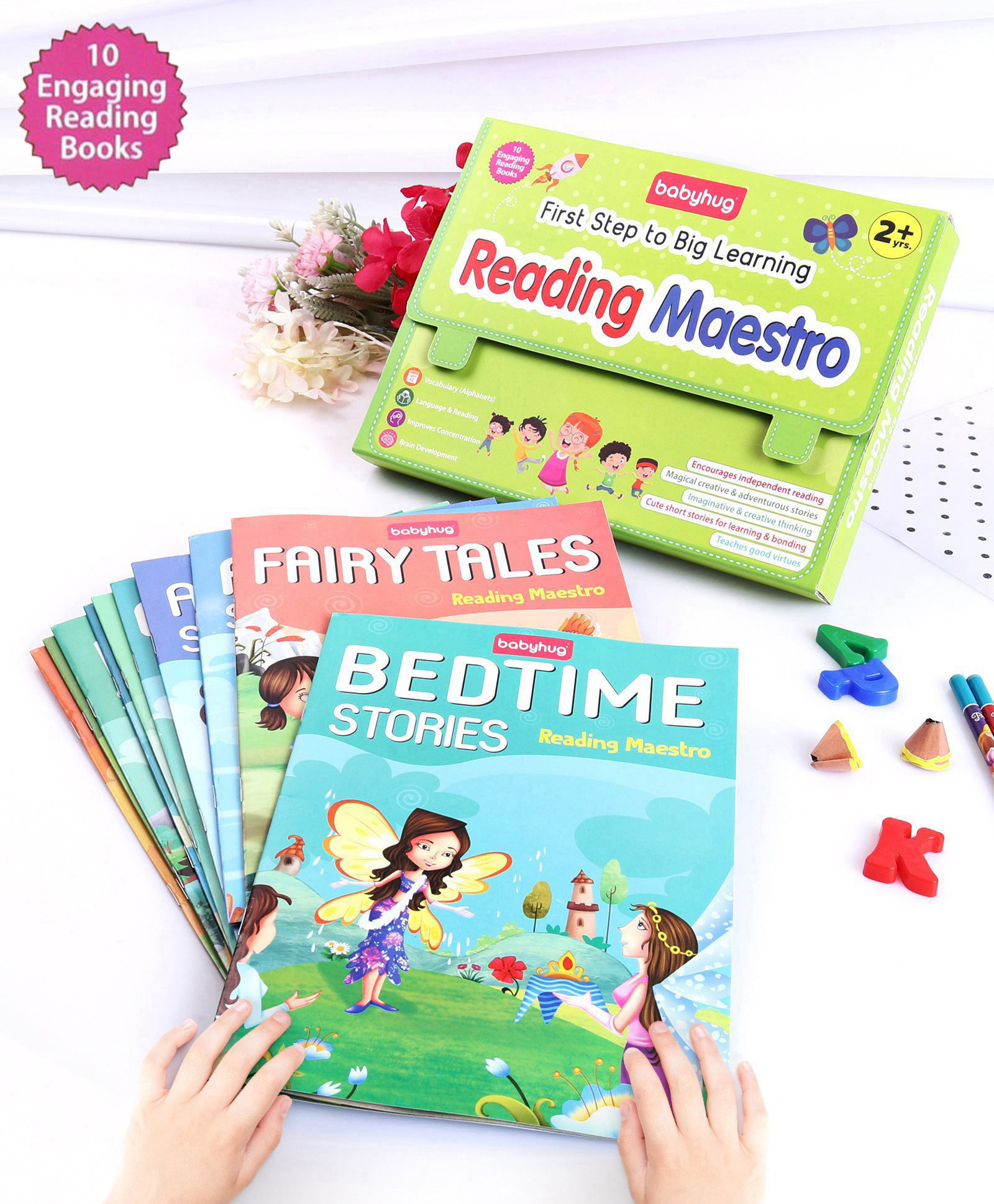 Author: https://www.instagram.com/babyhug/
Gajapati Kulapati Kalicha Kulicha
Author: https://www.instagram.com/ashokscape/
We hope you enjoy our recommendation. If you have more suggestions for books to introduce to your kid , write to us at thehappymomscafe@gmail.com.